Specialty Motors for Cement & Aggregates
Reliable and Efficient Motors for Extreme Conditions in Cement Plants
Efficient Motors and Reduced Downtime
Louis Allis partners with cement plant owners, operators, and facility managers to ensure their motor equipment is operational and working as efficiently as possible. We understand the costs of running heavy machinery or taking a plant offline, especially with decreasing margins from production to market price.
Every Motor Application
We've been manufacturing motors for over 100 years. Our large, specialty motors are built-to-last and run as efficiently as possible. Today, we manufacture, repair, and maintain motors found in crushers, raw mills, kiln drivers, clinkers, ID fans, ball mills, and finishing mills. As part of the Worldwide Electric Corporation, we can also offer standard, off-the-shelf rock crusher motors for use on conveyors that move materials throughout a cement facility and motor controls, such as Variable Frequency Drives and Motor Soft Starters.
Request a Quote
Heavy-Duty Motors for Cement and Aggregates
Crushing
The primary crusher breaks down base materials, such as limestone, shells, or clay. Once crushed, it is stored until needed. Additional materials, such as chalk, sand, fly ash, or iron ore, may be introduced and broken down. Plants often use two crushers, a primary that reduces the initial size and a secondary crusher that takes products down to 1" or smaller. Specialty motor applications include:
Feeder Motor | AC/DC
Reclaimer Motor | AC
Crusher Motor
Raw Mill
The Raw Mill takes dry materials and crushes them into a fine powder. Water is added to the mill if a wet slurry mix is required. Specialty motor applications include:
Feeder Motor | AC/DC
Air Separator ID Fan Motor | DC
Clinker Cooler
"Clinker" from the Kiln needs to be cooled. It is moved on grates or conveyor belts to storage in silos or warehouses. The abrasive, hot clinker can build up and damage equipment. Specialty motor applications include:
Cooler Grate Motor | DC
Exhaust Fan Motor | AC/DC
Preheater and Kiln
Materials are fed into the preheater and kiln on conveyors or bucket elevators for pyroprocessing. Fuels are also delivered to the Kiln via conveyor. Specialty motor applications include:
Feeder Motor | DC
Preheater ID Fan Motor | AC/DC
Kiln Motor | DC
Conveying and Feeding
A cement plant makes extensive use of belt and chain drive conveyors, rollers and bucket elevators to move materials from or feed materials into the process.
Heavy Duty Rock Crusher Motors
Gears and Reducers
Finish/Ball Mill
Clinker nodules are moved from storage to the finishing mill and ground into the final cement powder. Specialty motor applications include:
Roller Press Motor | AC/DC
Feeder Motor | AC/DC
Separator Motor | DC
Ventilation and Air Handling
Cement production uses ID fans driven by large motors to feed the preheater and kiln, removing hot and dusty gases from the process or for essential ventilation. Specialty motor applications include:
Clinker Cooler ID Fan Motor | DC
Clinker Compartment ID Fan Motor | AC/DC
Exhaust Gas ID Fan Motor | AC/DC
Pack House Vent Fan Motor | DC
Storage and Packing
The final cement product is moved pneumatically in pipes. Bagging operations in a "pack house" use conveyors to move and ship bags of cement.
Single-Source Specialty Motor Manufacturer
Louis Allis prides itself on being a single-source supplier for Aggregate and Cement plants, Batching plants, Mix plants, and more. With our turn-key solutions and custom capabilities Louis allis can create a motor to your exact specifications made for extreme conditions in any environment. Learn more in the video here.
Electric Motors for Cement and Aggregate
We Know Cement Production
Some of our customers include National Cement, Lhoist NA, Lehigh Hanson, Carmeuse Lime & Stone, Cimbar Performance Minerals, and Argos Cement and Cemex.
Some of our Cement Industry Customers
Specialty three-phase electric motors specifically designed to meet the needs of your application
Low, medium, and high voltage specialty three-phase motors up to 20,000 HP available
Manufactured at Louis Allis' ISO 9001:2015 certified facility in Warrior, Alabama
Capable of duplicating or modifying legacy Louis Allis motors and generators
We come to you, with a full range of field services available locally and worldwide
With more than 100 years of experience, Louis Allis has all your motor types covered. Louis Allis can also provide custom motors for other applications:
Louis Allis can design and build a "Fit and Function" replacement for any large or specialty electric motor regardless of the original motor OEM.
Reverse engineering services
Providing on-site engineering to collect critical information required for building a "fit and function" replacement
Opportunity to incorporate any design improvements or modifications when building replacement motors
Quality Craftsmanship
Quality is our top priority for new electric motor manufacturing and electric motor repair at our ISO 9001:2015 certified facility. We live by the motto "Quality applied with Louis Allis pride".
Recertified Motors
Our Factory Recertification Program exists to help customers who need a quick solution to a problem that can't wait for a custom build.
Full Service Shop
At Louis Allis we have the capability of repairing a variety of electric motors, regardless of manufacturer or severity of repair needed.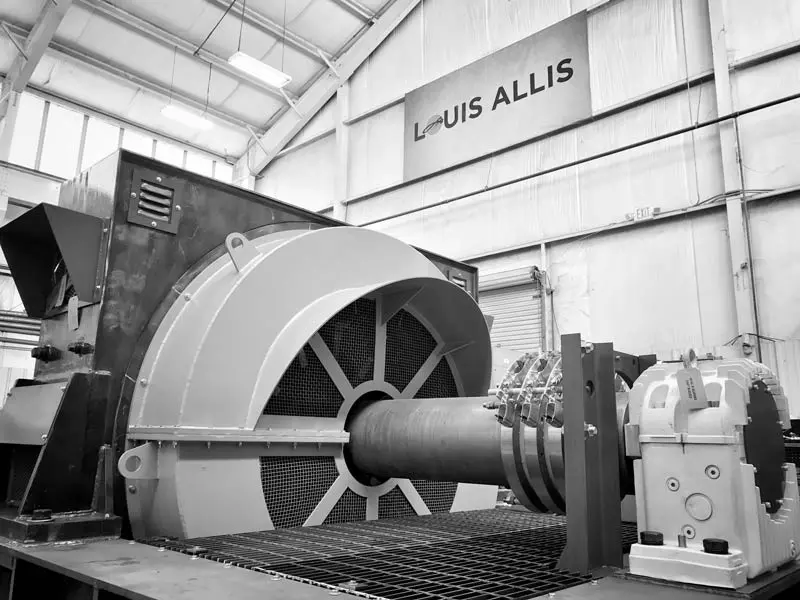 Specialty Products
Specialty Products
Louis Allis has been producing Above NEMA Specialty Motors for more than a century. And subsequently has become known as the go-to Specialty Motor manufacturer.
See All Specialty Products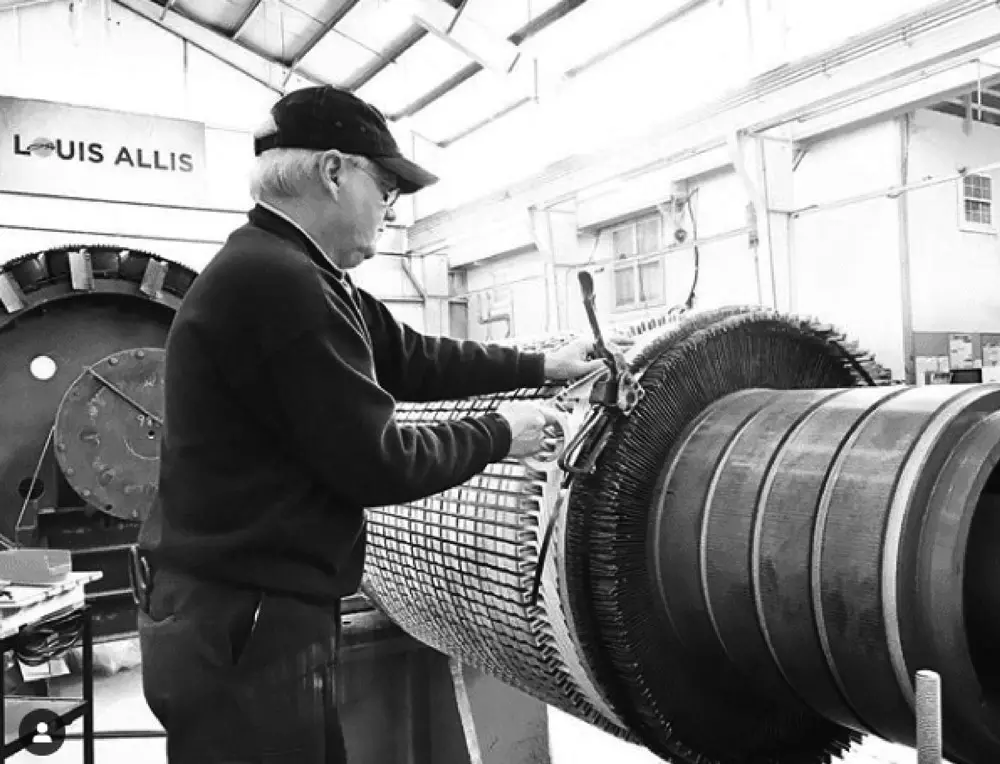 Services
Louis Allis' headquarters located in Warrior, AL hosts an impressive facility with extensive equipment handling and processing capabilities.
See All Services
The primary crusher breaks down base materials, such as limestone, shells, or clay. Once crushed, it is stored until needed. Additional materials, such as chalk, sand, fly ash, or iron ore, may be introduced and broken down. Plants often use two crushers, a primary that reduces the initial size and a secondary crusher that takes products down to 1" or smaller. Specialty motor applications include:
Feeder Motor | AC/DC
Reclaimer Motor | AC
Crusher Motor
The Raw Mill takes dry materials and crushes them into a fine powder. Water is added to the mill if a wet slurry mix is required. Specialty motor applications include:
Feeder Motor | AC/DC
Air Separator ID Fan Motor | DC
Materials are fed into the preheater and kiln on conveyors or bucket elevators for pyroprocessing. Fuels are also delivered to the Kiln via conveyor. Specialty motor applications include:
Feeder Motor | DC
Preheater ID Fan Motor | AC/DC
Kiln Motor | DC